Residence Registration with PSB in China
Registration is mandatory for foreigners who enter China with the Public Security Bureau (PSB) through the local police station. Since 1 July 2008 in China, it became enforced and required registration within 48 hours. Offenders and those who fail to register (whether it is individuals or the management of an apartment building) will have to pay a fine. This article will help you with this and give you some additional tips. Whether you are a student studying in China, a tourist, or a business person, you need to register. Still, the modus varies depending on the accommodation option or types of visas.
Registering Your Accommodation in China
After entering the country, foreign students shall, in accordance with the provisions of the Foreign Affairs Law, promptly handle the registration of their accommodation and fill out the Temporary Accommodation Registration Form. Those who stay in hotels, guest houses, and student buildings on campus shall declare to the hotels, guest houses, or international student homes. Those who stay in other units (including residents' homes, within enterprises, and institutions) shall report to the local public security police station.
When will the check-in report be made?
The city must be declared within 48 hours and the countryside within 72 hours.
How do I complete the registeration process?
A. Filling out the "Temporary Accommodation Registration Form" should be done without missing items, clear handwriting, and foreign abbreviation specifications.
B. Accommodation in different places shall be declared in a timely manner. If you have applied for a residence permit and have stayed in a registered place of permanent residence, there is no need to declare a separate registration of the stay. If you leave the place of permanent residence where you have applied for a residence permit registration, you shall declare your temporary accommodation elsewhere (e.g. temporarily at the home of a Chinese foreign friend).
What are the consequences of not registering your residence in china?
Those who fail to handle or fail to register their accommodation in a timely manner and stay without valid documents may be given a warning or a fine of 50-500 Yuan in accordance with the provisions of the Foreign Regulations.
Guests of hotels and service flats
The hotel or the management of a service flat must register foreign guests with the local PSB upon their arrival. Typically, this procedure is automatic, without the need for additional action from the guest. This means that foreigners who want to stay in a hotel in China will have their registeration completed at the hotel and do not need to visit the local police.
Foreigners living in private apartments
The management of private apartments should have foreign tenants/residents registered with the PSB through the competent local police station. If this does not happen, both the management company and the foreigner can be (heavily) fined. Registration at the relevant local police station within 24 hours of arrival in China is mandatory for any foreigner (tourists included).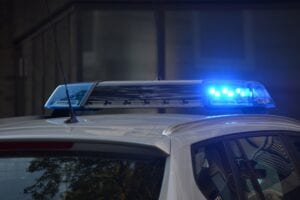 Register with the local police
You have to register with the local police within 48 hours. You have to do this in every city you stay in. A good landlord will report this himself and after arrival go with you to the right police station. You will also encounter owners who do not want to cooperate. They may have no experience with foreign guests, find too much trouble or illegally rent out their apartment.
When in China, it is recommended that you follow the laws of China. If the landlord does not want to help you with the registration, then the chances of being fined as a tourist are virtually negligible. Compare it to traffic rules that are hardly observed in China. Keep in mind that it is always your responsibility and that the fine can be up to 500 Yuan.
How to register with the PSB on Arrival?
When you arrive within the first 48 hours, you are required to register your place of residence. First-time offenders are fined and warned. Here is a simple process of getting registered with the local police station.
A photocopy of the front page of your passport
Visa page copy
Immigration entry stamp
House Purchase Documents ( to be provided by the one who rents the apartment)
Visit the local police station with these documents and request to register.
Fill out the application form with all your details.
The process takes less than 15 minutes to complete, and the officer attending to you will print a simple slip for you. Keep the slip with you as well as your passport wherever you go.
How to register with Your Embassy in China?
If you plan to stay in China for an extended period, it is advisable to register with your country's Embassy in China or consular general as well. Please transfer the following documents (by mail, mail or personal/third parties) for a valid registration:
Application form for registration adequately completed and signed. Please note that for minors, there is a separate form.
Copy of identity card
Copy of passport and valid visa for China
Proof of registration at a local Chinese police station
Evidence of depreciation abroad (model 8), obtained from your previous town hall, if in your possession.
Form for registration as a voter for the federal legislative chamber and possibly the proxy form.
Housing students in China
For a low amount per $15 day, you can use a room on campus, and also the rent for apartments outside school is usually cheap. Your responsibility to register with the PSB depends on what accommodation of option you select as a student. Let's look at a few of the scenarios below.
When living on campus, the school provides registration at the reception. You are, therefore, not required to visit the local police and register by yourself. Universities and Hotels have an exclusive right to register their residents. Usually, most Chinese universities separate Chinese students from international students—the number of students you share rooms which will determine the price of your housing. Prices on campus are also affected by whether or not to have a private bathroom, air conditioning, and other luxury amenities. On average, the price of a room on a Chinese campus is between €3 and €20 per day.
Rent your Private Apartment
You need to visit the PSB with your apartment owner to register with the documents mentioned above. If you are studying in China for a more extended period and are you very fond of your privacy, you can also rent your apartment. For between €200 and €400 per month (excluding gas, water, and light), you already live in a three-room apartment off-campus. If you share a flat with a roommate, you will live very efficiently!
Conditions for an X visa
To obtain a student visa for China, you must first be admitted to a Chinese university. Your plane ticket (round trip) and your accommodation must also be arranged. The proof of this (admission ticket, print out of your airline tickets, etc.) must be included when applying for a visa.
How do you apply for a student visa for China?
Applying for a visa for China goes through the China Visa Application Service Center (CVASC). If you follow the CVASC's roadmap, your visa will take ten working days. To apply for an X visa, you should send the following papers:
Fully completed visa form.
Fully completed form of necessary documents
A photocopy of your passport (wit six months validity)
A recent passport photo (48 x 33 millimeter)
Admission certificate (+ photocopy) of the training institute / University
A JW201 or JW202 form (you will receive it from the Chinese university)
A printed version of your airline tickets (round trip)
Proof of overnight stay in the city where you are going to study
Please note: If you stay in China for more than 180 days, you don't have to send airline tickets and proof of overnight stay. However, in China, you have to make sure that your visa is converted to a residence permit that is valid throughout the study period.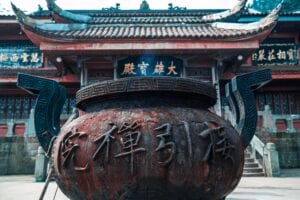 How to Apply for a Chinese university?
Applying to study in China comes in various forms – you either apply directly to the university or get the service of an admission platform, which we highly recommend. Chinese websites are often confusing mazes for most people. This does not mean that it is poorly organized on the spot: it is the way Chinese design websites. So try to look through that and patiently search for what you need. Have you found the right information and contacted China? An answer often takes a long time. That, too, does not mean that something is not possible: in China, they have a different experience of time and planning. As late as  July hearing that you can start your studies in September is quite reasonable in China.
If you use the service of China Scholar, we provide 24/7 support services, prompt response, a personalized concierge service a chat function. Our admission consultants answer all questions. Our clients get a combination of admission services, study support, mentoring, assimilation, internships and jobs and several other support services.
What are the additional rules there for international students?
You need to know several rules when entering China as a student. Since you are in a foreign country, you should adopt the country's laws to avoid any unnecessary problems. The first initiative you can take when you enter China is to make sure you register with the police and get your foreign student ID card as soon as possible. This could avoid a lot of trouble. Also, since you have a student visa and not a work visa, you are not allowed to do any paid jobs in China unless internships. If you get caught doing this, there will be significant consequences, and China might even ban you from the country.
Another important rule for international students in China is to attend as many classes as possible (preferably all of them). You came to China to study, so the Chinese government expects you to be present in the classes that you applied for. If the local government or school is strict, they could even stop your visa if you miss too many classes.
Don't get into a scuffle with locals; always walk away from trouble when provoked. Always be on the lookout for trouble makers on the street and in the night clubs. If you engage in a fight as a student, you are likely to be punished or may even lose your visa.
Avoid drugs at all costs- whether its for recreational purposes or addiction. China is stringent in dealing with people found with drugs. There are urine tests conducted at random public places.
Beijing is the largest capital city in the world. The town, previously called Peking, is located in northern China and has 16 districts. How many people live in Beijing? 21.71 million!
It's hard to know exactly how many foreigners live in Beijing, but there are about 100,000 estimated. If you walk through the tourist/ex-pat area of Beijing, it is not unusual to see another foreigner. But if you go further to the edges of the city, you will probably be the only foreigner in the area.