Student Accommodation in China.
There are a little bit of all parts of the world in China! Finding out about Student Accommodation in China shouldn't be too difficult. There are several options to consider from university accommodation to private apartments and hostels; there is something for every budget.
China is a country of beautiful cities, cultural sights, and history. There is so much to see and experience that its overwhelming to identify the starting point! That's why China Scholar is here to support you through the entire process. When you have decided to do your study in China, there will still be a lot of matters to take care of before you go. One of the most important ones is to find a place to live during your study. Moreover, how is it like to live in China?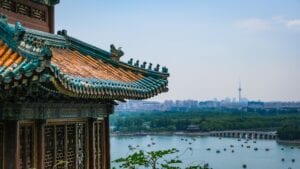 Student Accommodation Abroad
Where are you going to live when you're abroad? This question sounds simple but frustrates several international students who are planning their study abroad. It also gets overwhelming when its about finding accommodation in China. But the truth is that getting student accommodation in China is as Easy as ABC. Suitable accommodation abroad is one of the essential factors for a pleasant stay. Your international experience is primarily determined by the place you live in. That's why China Scholar assists our clients with a professional Accommodation placement service.  Below are some of the student accommodation options to consider
Homestay Abroad
Immerse yourself in the daily life of your new host country by living with other people in the house. You stay with a host family. Usually, you spend a lot of time with your host family during the evenings at home, holidays, and family dinners. Also, you are seen as a full family member, which means that you also help in the household. The schedules to prepare meals and cleaning vary by family arrangements. In most cases, you have your room. It is the most suitable opportunity to learn a language quickly and also get immersed in the culture as soon as possible. For underage High School students, the stay in a host family is usually mandatory.
if you are applying for a degree in China, we will recommend dormitory accommodation options
On-campus Apartments
Are you going to study at a university abroad in China for six months or more? Then it is often possible to live on-campus. Campus accommodation is usually fully equipped with sports facilities, swimming pools, supermarkets and more. You don't have to worry about the meals. The meals are served very cheaply at the university canteens, but in some cases, you may pay for a meal delivery service. Besides, you are always close to your fellow International students, and it is easy to make new friends. The campus dormitory accommodations come with the necessary facilities enough for everyday life. You get a bedding package and a single size bed, desk and closet, a shared living room, shared kitchen, and a private bathroom. Living on campus is the best way to experience the real international student life!
Student Rooms
Do you just like to share your living space? Then a shared room is an option. You'll sleep with several people in one place. Build a close bond with your international roommates and learn about their culture and language. Of course, it is also possible to rent a private room in a student house. Sharing a property has the advantage of sharing the costs. It is one of the most efficient accommodation options and also very cozy!
Private Apartment
Are you fond of your privacy? Then renting a private apartment is for you. You don't have to share anything, and you have your own living space. In some cases, the apartment is partly furnished. If not, you will have to invest some in furniture yourself. This accommodation offers you the most freedom. Private apartments are located in the center of the city
Hostels / Guesthouses / Hotels
Are you planning to go abroad for a short period (1 to 2 weeks) for a language course? Or do you want a temporary place to lay your head while continue searching for suitable accommodation? Then staying in a hostel, guesthouse or hotel can often be more comfortable. The costs are lower, and you don't have to sign a rental contract or pay a deposit. In a hostel, you share a room with others. In a guesthouse or hotel, you often have your room.
After securing your admission with a Chinese University, you are allowed to travel to China, after acquiring a student visa. It is then possible to find a short term arrangement, so you have enough time at hand to explore accommodation options before deciding.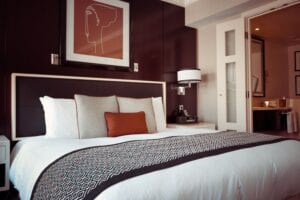 Chinese University Dormitories
China has a real campus culture. As an international student, you can often use individual sleeping and dining rooms on campus. This option is the cheapest and most affordable of all possibilities.
Student rooms for International students are shared with one to three students. Chinese students usually share a room with four or six others. Universities often offer different types of rooms in different price ranges: single or shared, with or without their bathroom, with or without air conditioning, etc. The cost of a dormitory is, on average, between € 3 and € 20 per day.
Finding Student Apartment in China – Off-Campus
It is also possible that your favorite university does not offer campus accommodation—That's not a reason to reject their offer. There are ways to get a suitable room and enjoy student life without issues. You'll be paying more rent, but off-campus accommodation comes with some perks. A three-room apartment costs between € 200 and € 600 per month depending on location, the city as well as facilities. That does not include gas, water, and light. In big cities, rents are much higher than in smaller cities.
On the following sites, you can search for living space:
If you haven't been able to arrange a room before you leave, there's nothing to worry. Book a room in a cheap hotel or a youth hostel and go from there in search of a suitable living space.
How do I get to Meet Chinese students?
On-campus in China, Chinese and international students live separately. They sleep in different dormitories and also separate study arrangements (except for Chinese taught masters degree students, where international and Chinese students sometimes have joint lessons). So the question that lingers is – How can I meet other Chinese Students? There are student organizations that allow international student membership. If you can speak some Chinese, it will be easier to connect and make good friends.
There are also student clubs around for hobbies: think of photography clubs, cooking clubs, voluntary clubs, and literature clubs. These are very good opportunities to make Chinese friends. Often the clubs like it when an international student joins them. At the beginning of September, there is an exhibition at every Chinese university where all clubs present what they do and accept membership applications.  That's a perfect time to join them and build your social life in China. What also helps is the buddy system of Chinese universities: as an international student, universities link you to a Chinese student who can help you with the Chinese language. Don't you have a connection with your language buddy, and would you like to? Just ask for a new language, buddy.
Featured City – Study in Shanghai
Shanghai is China's largest city in terms of population and is also considered the financial center of China, while Beijing is the capital city. This city is a large metropolis and does not go unnoticed; everywhere, there are giant skyscrapers that illuminate the entire city in the evening. It also has the largest and busiest port in the world. Do you want to study in the heart of China's Financial Center? Then studying in Shanghai must be a good option for you.
Why study in Shanghai?
A study in Shanghai will, in addition to being an unforgettable experience, stand firm on your CV. Shanghai is China's largest city, has more than 23 million inhabitants, and seen as the financial heart of China. Surrounded by skyscrapers in this magical city,  studying in Shanghai is a unique experience that you can enjoy. Besides your study in Shanghai, you will, of course, have enough free time to discover the city and perhaps has many other beautiful places. There is so much fun and opportunity to meet international and Chinese Business people
Whether you want to do your study in China or any other city, you should always spend enough time to research and select the right accommodation options. A good experience starts with yourself. Therefore, try looking for people that have experience with studying in China or living in China to get a more personal feeling. It will help with creating unforgettable memories.
China Scholar provides comprehensive admission, career development as well as a 360-degree package for international students who want to study in China. We are the largest brand currently with over a decade of experience. We support you with accommodation selection and budgeting. You are in safe hands. Book an appointment to speak with our admission Consultants now!