Average Amount of Money you would spend as a Student in China.
China, as a study abroad destination, has become very popular among international students. China has been an essential player in the global economy for years. The rapid pace at which the country's economy is climbing up does not go unnoticed by students either. It is not surprising, then, that China is becoming increasingly popular with students who want to study abroad. In 2019, China hosted over 500,000 international students enrolled in various courses. Though the numbers are not as massive as the UK and USA, it has been encouraging to find that the absolute figures are encouraging. China is now the third hottest study abroad destination. The government has invested heavily in the revamping of Chinese Universities. They are also partnering with international universities in Europe, Canada, and the USA. The internationalization of Chinese education is almost complete and has enhanced with many technological breakthroughs.
Studying in China is hot and looks good on your resume; above all, it also offers a unique opportunity to learn more about this beautiful country and its unique culture during your studies. The critical question is: How much does it cost to do a Study in China? The question you are asking yourself now is how expensive it could be to study in China? We will discuss some of the vital cost structures as well as scholarships to reduce the cost of study in China. Keep this in mind that the cost of living and studying in China varies on several grounds. The city, University, type of accommodation you select and your lifestyle will impact your cost significantly.
1. The cost of living
China is a country on the rise. The standard of living of the majority of the population is low. For ex-pats, they often have a higher salary than the locals. Due to low taxes, most ex-pats in China have a higher standard of living than in the country of origin. Housing costs have increased in recent years. Shanghai is China's most expensive city to live in, followed by Beijing.
The average living costs in Chinese cities while studying:
International Student Housing
Living space in China is a lot cheaper than in Europe. You may rent a room in apartment costs between € 200 and € 350 per month, excluding gas, water, and light. In big cities, rents are much higher than in smaller cities. If you live on campus when you study in China, the cost of living will be even cheaper than the amount listed above. For international students, it is an excellent way to get to know each other when they live together. Usually, dorms for Chinese students and dorms for international students are separated. However, this does not mean it is not easy to meet Chinese students. There are often workshops or other activities that are joined by both Chinese and international students. The cost of living on campus could vary between €3 to €20, depending on how big your room is and which city you live in.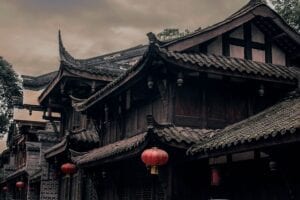 Food and drink costs
Food in China is cheap. At least the food won't punch a hole in your budget. A meal from a street vendor doesn't even cost you €2. For this, you get noodles, rice, pork sandwiches, or soup. A full meal in a restaurant costs between €5 and €15.
In the west, southwest, and inland, food is much cheaper than in the big cities. Here you can store food for half the price all day. For Western food, you pay much higher rates, and often the quality is disappointing.
An example of Chinese costs:
Breakfast in a hostel (scrambled egg) – €1
Breakfast in breakfast cafe – €3
Noodles, a sandwich, and coffee – €8
Dim Sum for two people plus drink – €15
Chinese dinner in a hostel – €4
Snacks (street food) – €2
Cost of beverages;
Bottle of water (0.50 liters) – €0.20
Coffee – €1
Beer – €1
Fruit shake – €2.50
Transport costs in China
China is a big country, but it is easy and cheap to go from point A to point B. Buses are the most popular way to travel and cost less than €1 in the city. Major cities also have an extensive metro system that takes you to your destination for less than €1 per ride.
Train Costs
A ticket for the high-speed train from Beijing to Shanghai costs about €70 for the 2nd class, €120 for the 1st class tickets, and around €230 for a VIP seat. Keep in mind that on the night trains, the bottom bed is usually cheaper because you are closer to the noise.
That's a lot more expensive than traveling in Thailand, but don't forget that train travel sometimes lasts for around 20 hours.
Buses
Buses are generally cheaper than the train. For example, the 2-hour drive from Beijing to Tianjin costs between €4 and €6, while the high-speed train costs around €10. The journey from Shanghai to Hangzhou is 2.5 hours by bus (€10), and the train costs €13.
Other transport costs examples:
Bus Beijing to Chinese Wall – €2
Night bus Guilin to Yangshuo – €3
Minivan Xi'an to Terracotta Army – €1
Lijiang to Yunnan – €25
Metro in Beijing – €1
Tram to The Peak (Hong Kong) – €11
Costs for activities
Activities and tours are endless in China. You can't think anything impossible to do in China. Cycling, hiking, diving, climbing mountains, viewing ancient temples, booking city tours, cycling over city walls, it is all possible in China!
These costs are also different per person as not everyone will undertake (paid) activities or tours. An example of the expenses for activities and entrance fees;
Entrance Forbidden City – €5 to €7
Summer Palace entrance fee – €4
Entrance Terracotta Army – €20
Cruise over Li River – €60
Tour to Chinese Wall – from €125
Entrance Jade Dragon Snow Mountain (Lijiang) – €15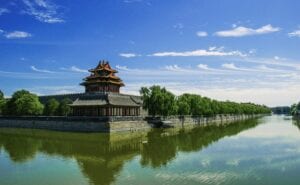 2. Tuition fees in Chinese universities
The Chinese University tuition varies considerably from one University to another, public or private, courses, and programs selected. You also pay tuition or not depending on whether you got a scholarship
Tuition fees in Chinese Public universities
The majority of Chinese Universities are public, and the government managed. The average tuition fees range between $2000 and $15,000 per academic year. There is some scholarship based that you don't pay fees at all.
Private universities in China are usually more expensive. You should expect between $25000 and $50,000 per anum.
Most affordable Chinese universities with tuition less than $3000 per Year
We've listed here some Chinese universities with the most affordable tuition fees:
Zhejiang University
Beijing Foreign Studies University
University of International Business Studies (UIBE)- Beijing
Ningbo University
Northwestern Polytechnic University
Liaoning University of Technology
Tuition fees at top-ranked Chinese universities ranging between $4000 and $15000
Peking University
Tsinghua University
Fudan University
Shanghai Jiao Tong University
Beijing Normal
San Yat-Sen
Nanjing University
3. Find scholarships to study in China.
There several scholarships in China available to international students willing to study in China. The Chinese government, over the past decades, has tried hard to make studying in China attractive to students. As part of the internationalization process, there has been government to government scholarships. Check out the options below.
We have a dedicated scholarship application process on our platform, and we assist you in selecting the right options and strategies
Chinese Yuan
The currency in China is the Chinese Yuan. If you're going to pin money, you can get banknotes of 1, 2, 5, 10, 20, 50, and 100 Yuan. Remember that if you travel to Hong Kong, you will need the Hong Kong Dollar and the Chinese Yuan. In China, you can exchange the euro with the Chinese Yuan in many places.
It has become obvious you could study in China for free or on a tight budget without sacrificing quality. China Scholar is an International student mobility service provider, and we support you through it all. We have changed the face of study abroad with a comprehensive program package. You get Admission Service combined with Internships, Job search opportunities, campus support, and coaching services. Send us an inquiry to speak with a team member.