Most Popular Courses in Chinese Universities
In the year 1950, China has granted admission to international students to study in Chinese Universities. Historically China was not a famous country for westerners to study except for language and culture immersion. The tables have turned, and the story is different now. More and more International Students are applying to study in China. In 2019 over 500,000 International students studied in China, a number that keeps growing year-on-year.
The latest Global University ranking has indicated that Chinese Universities are growing in popularity and also in quality. Chinese institutions offer programs in English that are more attractive to international students. Every year China's economy grows at a fast pace creating jobs, expanding innovation, and changing the lives of its citizens.
The government of China has invested a lot in boosting University research and development capacity. The C9 League of Universities are all within the first 100 universities in the world.
As you decide to study in China, the obvious question is, what are the best courses to study in China? Well, we have used ranking factors, Student reviews and demand to determine the best courses to study in China.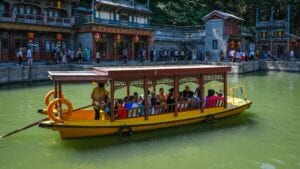 Popular Subjects in China for International Students
China is such a big country with over 2000 Universities, and a chink of them rank very well on the global league of Universities. There are currently over 15000 courses offered by Chinese Universities, which complicates what to select for your study abroad.
When it comes to selecting the right course, the destination also counts a lot. Some countries have better facilities for teaching some courses than others. China is one of the best destinations to study Engineering and Science, International Trade, Chinese Language, and Literature.
Chinese students themselves have to study very hard in high school to get good points, which will be essential for getting into the best schools in China. However, for international students, it could sometimes be a lot easier because of the privileges that China offers. Many Chinese schools allow a certain number of international students in their school each year/semester. The subjects that international students choose to study in China vary a lot. Some are interested in economics while others want to do a medical study. Below is a list of the top most popular subjects in China.
1. Clinical Medicine
This study focuses heavily on medical treatment, which tends to be one of the most important studies for foreigners in China. The technology in China is so far one of the best and supports hospitals and research laboratories to succeed in healthcare breakthroughs in the recent past. Additionally, China is famous for its traditional medicine. These traditional medicines have been around for thousands of years. Chinese Traditional Medicine often tends to be more effective than modern western medicine in some clinical diagnosis.
Some Chinese Universities in China are top-rated for giving this particular subject. These schools have all climbed in the World Ranking of Universities worldwide. The most recommended school that offers the Clinical Medicine study at Peking University Union College, Capital Medical University. Wuhan University is also a good university offering surprising possibilities for you if you are interested in studying this subject.
2. International Economics and Trade
Another excellent study in China is International Economics and Trade. China is the largest Trade Country in the world with well-designed logistics, transport, and Trade systems. Universities offering this course have the right case studies, statistics, and scenarios to teach International students. One of the secure areas of investment in China is International Trade and Commerce, creating several job opportunities for students who graduate from this course. Cities like Tianjin, Shanghai, Guangzhou, Shenzhen, and Qingdao are very famous for International Trade.
3. Computer Science and Technology
We are in the age of technological breakthroughs impacting our lives at various levels. China is leading in the number of patents filed at the international level, which a clear indication of progress. 5G, Virtual realities, artificial intelligence, Computer vision, and machine learning are the top areas in China. There are so much investment and available capital for entrepreneurs who want to explore these technologies.
Computer Science is very famous in China, and most international students are interested in. As was mentioned before, Chinese technology and science are developing faster than most, if not all, other countries. The Chinese learned a lot from America's technology and have grown it even further. Tsinghua University, Shanghai Jiaotong University, Zhejiang University, and others are the top Chinese Universities in IT. There are graduate Jobs and accessible opportunities for international students who graduate in this major to live in China
Some of the top-ranked Universities in IT are:
Harbin Institute of Technology
Huazhong University of Science and Technology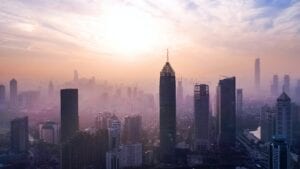 4. Business Administration
Business administration is the field of expertise in the organization and market environment of companies. China offers many amazing studies regarding this subject. This study focuses on developing a way to formulate and achieve the business' objectives.
As a result, business administration relates to the whole of activities that a manager, director, or advisor must perform to market his products and services to achieve turnover and further improve the corporate results. Managers should be able to analyze and predict future conditions and implement strategies to keep their company growing. For example, Graduates in this area should be able to analyze:
the mission, vision, and strategy of your organization?
The management of your department contribute to achieving this objective?
Current business operations (people and resources) connect to this, or how could this process be organized more efficiently?
International students studying business Administration in China
5. Chinese Language and Literature
You cannot study the Chinese Language elsewhere than China. It is the cradle of beautiful and ancient culture, and the native speakers of Mandarin are in China. The study of Chinese Language and Literature focuses on the cultural aspects of China. This means that the study contains: Ancient Chinese Language courses, Chinese Literature courses, Chinese History courses, and also Modern Chinese Literature and Language. International Students that are interested in the Chinese culture would fit this study.
Career options are translation, international relations, trade and international business, government relations, and consulting.
6. Civil Engineering
The study of civil engineering covers city and country planning t include waterways, polders, roads, railways, and airports with the associated bridges, tunnels, locks, and viaducts. Land extraction, water purification, drainage, coastal defense, irrigation, dams, and sewers are the work of civil engineers. Environmental aspects play an essential role.
Civil Engineers are not only working on construction works. Due to the effects of climate change, many new civil engineering jobs will emerge in the future. Some examples of functions are executor/project leader at a contracting company in the road and hydraulic engineering, designer at an engineering firm, an employee at a public service, head of municipal works, technical, commercial employee, or specialist at an advisory or research institute.
Studying Civil Engineering in China will serve your best interest and launch a professional journey. The construction industry in China is very matured due to the extensive infrastructure work that various cities are investing in.
7. Mechanical Engineering
Study mechanical engineering for real experience and job prospects. Most Chinese Universities are known for their engineering prowess and research. In the mechanical engineering sector, mainly work is done on the production and maintenance of (parts of) machines and appliances. Within China, machines are produced for organizations or individuals. It involves the construction of simple tools to build large machines with multiple production lines. Machine builders are active in various markets, including the food, transport, and textile industries. Research shows that this industry is one of the best performing sectors in China. This is partly due to the automation of the production process. But also due to increasing exports to emerging markets outside China.
Whether you are considering a career in Mechanical Design, Auto Engineering, project management, and other related areas, China is the place to study.
8. Architecture
With an education in architecture, you design buildings that are safe and also fit the user's wishes. But you can also look beyond that, with a course in spatial planning, you take care of the overall plan. You think about how new neighborhoods can best be constructed. Because of your ideas, the architecture and parks of the community form a perfect whole.
A Chinese study in architecture is built around projects and makes excellent use of a problem-solving teaching method. An example of a project from the architecture or engineering program is that students study an environment, building, or house and then give ideas about what it can be used for. Finally, the students design what emerges from the analysis, such as an office or playground.
9. Electronic Engineering
Electronic engineering is indispensable in Chinese society. We all use electronic devices, such as a smartphone, a coffee machine, or a car. Without an electrical engineer, these devices would not work. As an electronic engineer, it is essential that you can work accurately, be eager to learn, and be creative. Also, you need to have analytical and numerical insight.
Electronic engineering is a multifaceted field. You can work at all levels and in different directions. This does not necessarily have to be done as an electrical engineer, but can also be done as a mechanic, draughtsman or installer.
10. Chinese Language Training
The last famous study in China is, of course: Chinese Language Training. This study can be short-term or long-term (a few weeks to a year or longer). A Chinese Language Course will focus on teaching you how to communicate using the Chinese Language and eventually how to read and write it too. Additionally, you could take the HSK (from 1 to 6) tests, which determine your level in the Chinese Language.
Want to study in China?
China Scholar has one of the best admission services in China. We assist over 5000 International students in China every year. Our partnership traverses several industries to deliver real opportunities and value to our clients.
China Scholar will help you secure admission to Chinese Universities for your study in China. With over a decade of experience, we are the most extensive student mobility program in China, covering all aspects of what you need. We also support you through your stay in China, offering comprehensive packages. Aside from getting a professional admission process, we encourage you through Career Development, Internship programs, study success, and job introduction. While in China, you will get full access to our community of entrepreneurship programs, career events, and Senior coaches.
Click to Enquire now to speak with our Admission Experts for free consulting