All the Items Needed for Your Trip to China
Whether you're only visiting Beijing and Shanghai, to study in China or for an adventure, there are always things to take into account when packing your luggage. With this handy list, we will help you with a good start on your travel to China.  Would you rather make your own list? Please take into account the tips below for creating the perfect packing list for China.
Tip 1: Tumble dryers are rare
Washing your clothes in a laundry is fairly easy. Unfortunately, finding a tumble dryer is a lot more difficult. Are you planning to wash your clothes yourself? Then opt for fast drying materials such as nylon and polyester. Also, fast-drying towels and washcloths are very convenient to carry.
Tip 2: Cover yourself
Cities such as Beijing, Shanghai, Xi'an, and Hong Kong are fairly 'Western' when it comes to clothing. However, it is not always appreciated to wear shorts or non-concealing shirts. If you visit the smaller towns and villages, make sure you are dressed 'neatly'. By the way, did you know that in China a lot of people like to have white skin? The sun is shunned by many people as much as possible. Do you really want to blend in with Chinese society? Then take sunscreen lotion with you on sunny days!
Tip 3: Do not count on central heating
The Northern part of China happens to be the coldest of all and there are heaters installed in rooms. In the southern parts of China, there is no central heating. Are you going to China in a cold season? Then bring a warm pajama. Chinese often sleep with a jug in winter. If you want to use it, you can buy it in China.
Tip 4: Pack your digital backpack
Most travelers no longer travel without a phone, tablet, or even a laptop. If you want to continue using the Internet in China as you are used to, you can't do without a VPN. This VPN should be installed on your phone and tablet before you leave for China. In addition, a translation app, offline maps or travel guides, and the metro app of Shanghai and Beijing should not be missed. Finally, you can install WeChat so you can message people you meet in China.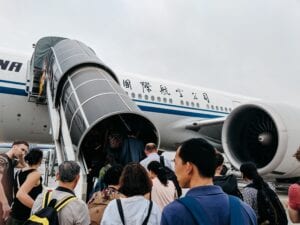 VPN for China
China has some of the strictest censorship laws in the world and therefore you need a VPN to access the websites and services you normally use. The Chinese government blocks thousands of websites such as Facebook, YouTube and Twitter that many people use every day. Many major news channels and messaging apps and streaming services are also blocked.
If you want to open Gmail or chat with your friends on WhatsApp while you're in China, you'll need a VPN. But many VPNs don't work in China because the government is actively trying to block the use of such services.
If you want to make sure you have full access to the Internet in China, you need to opt for a VPN on this list:
Best Paid VPNs for China
Best free VPNs for China
Hotspot Shield gives users 500MB of data for free every day.
Windscribe offers free accounts with 10GB of data per month.
TunnelBear gives users of the free version 500 MB of data per month.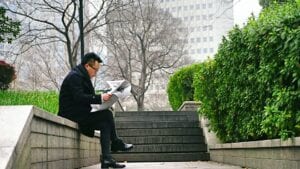 Comprehensive Packing list for China
There is a distinction in this list between things that are necessary and things that do not necessarily have to go with you to China
Necessary
Copy of your passport
Other ID, such as your driver's license
Medical passport
Travel Guide
Debit card (with world coverage) and credit card.
Cash for emergencies. (Dollars or Yuan)
Travel insurance
Emergency numbers of your own Country's Embassy
Pen or pencil
Travel pillow
Sheet bag (if you're going to stay in hostels overnight)
Electronics
Travel plug (adapter fit for Chinese power sockets)
Ear pods
Phone
Tablet
Chargers and batteries
Digital camera
Power bank (strict rules apply in China!)
VPN on phone and/or tablet
On your phone: a translation app, public transport app, travel guide, copies of important documents
USB stick or memory card
Toiletries
Shampoo and conditioner
Toothbrush and toothpaste
Soap
Hair wax
Shaving gear
Deodorant (this is hard to get in China)
Baby wipes
Tampons (If you are a woman)
Lenses and/or glasses
Lens fluid
Medicines (e.g. paracetamol, ibuprofen, ORS etc)
Clothing
Long trousers (3-4 pair)
Shorts (1-2 pair)
Belt
Short-sleeve T-shirt (3-5)
Shirt long sleeves or sweater
1 set of 'neat' clothes
Fleece jacket or hooded jacket
Underwear
Socks
Raincoat
Hat or cap against the sun
Swimwear
Shoes
Sturdy sandals (e.g. Teva)
Well-fitting sneaker or walking shoe
Slippers for showering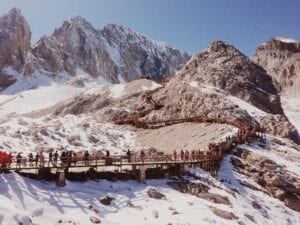 Backpack or travel bag to China?
Whether you bring a backpack, travel bag or suitcase during your trip through China depends on the transport you will use during your trip. Do you travel a lot with public transport? Then a backpack is easy because you probably have to transfer frequently or walk a few kilometers from the station to your hotel. A backpack is also easier to store in the luggage rack or hold of a bus or train and in luggage safe at a station.
The disadvantage of a backpack is that your belongings stay less well in place and that you often have to empty your entire backpack for that one little thing that happens to be at the bottom of your backpack.  And having to lift it on your back from 20 kilos of luggage becomes a lot less fun if you have to walk 2 kilometers at 30 degrees.
A good alternative to a backpack is a travel bag. Because these are made of flexible materials, you can easily store them in a luggage rack or a safe. They are also flexible to classify. This makes it easier to find your belongings and keeps your clothes tidy. A good travel bag usually has 2 or 4 wheels, so you don't have to carry them constantly on your back.
Do you travel mainly by plane and taxi? Then feel free to bring a suitcase. In a suitcase, your things will stay in place. In addition, a suitcase is more difficult to break open and vulnerable equipment is well protected.
Whatever you choose, always get a good luggage tag on your backpack or bag. Put your phone number on that label (with the country code) and your email address.
Daypack in China
When choosing a daypack for your vacation in China, you should first think about what you're going to use and what you're going to keep in it. Are you planning to bring your laptop or tablet with you during your visit to the Great Wall of China? Then opt for a sturdy backpack, preferably with a lock. If you are only going to use the backpack for your water, noodles and your travel guide, then a light backpack is enough.
What you need to buy in China
Not everything you need in China is on the packing list. You don't have to buy everything you need in your own country. A number of products are also available in China and are sometimes also a lot cheaper.
Toilet paper: make sure you always have enough toilet paper with you. There is no toilet paper in most toilets (also at the airport).
SIMcard: Buy your SIM card at the airport where you enter China. Or ask someone in your hotel to help you with this.
Train tickets: Buying a train ticket can be done in China from 10 days before the actual train journey. You can do this yourself at the station. Many hotels can also help you with this, for a small fee.
Thermos bottle: are you planning to make a cup of tea or prepare instant noodles, just like the Chinese? Then buy your thermos bottle to store your hot water in China.
What to buy before you leave for China
Passport with Visa: you will not enter China without a visa.
VPN: Once you're in China, you won't be able to put a VPN app on your phone or tablet. You will therefore need to purchase and install these before you leave for China.
First aid set: a good first aid kit should not be missing from your luggage. Make sure that it contains at least plasters, bandages and disinfectants.
Adapter: buy it in in your own country. Then you are sure you have the adapter and plugs that fit your equipment
Electronics: the story that you can buy electronic equipment for little money in China is a myth. Branded goods are often just as expensive in China as they are in Europe and America.
Want to study in China?
China Scholar has one of the best admission services in China. We assist over 5000 International students in China every year. Our partnership traverses several industries to deliver real opportunities and value to our clients.
China Scholar will help you secure admission to Chinese Universities for your study in China. With over a decade of experience, we are the most extensive student mobility program in China, covering all aspects of what you need. We also support you through your stay in China, offering comprehensive packages. Aside from getting a professional admission process, we encourage you through Career Development, Internship programs, study success, and job introduction. While in China, you will get full access to our community of entrepreneurship programs, career events, and Senior coaches.
Click to Enquire now to speak with our Admission Experts for free consulting