International Students Need to Know before Applying to Study in China
China is a country with an exciting history and a unique destination with numerous opportunities. International students interested in studying somewhere non-Western, immerse into a new culture, get an experience that's different from what the usual, then a study in China is your sure bet. The bonus is that there are numerous opportunities to develop yourself, secure jobs after graduation, or set up your own business.
The Great Wall of China in Beijing is perhaps the most famous landmark. But there's a lot more to see. It may seem not a secure country to study, but I bet you over 500,000 international students do it each year. Don't let this stop you, because there's so much beauty and opportunities superior to Europe and America. And practice eating with chopsticks before departure, because almost everywhere you get that standard when eating what you order!
Studying in China can give you a fantastic experience. You will learn more about their culture, language, and landscapes. However, before you go to China, there is a lot of things you need to know and prepare. If you follow this article thoroughly, you will have a safe and fun adventure ahead of you!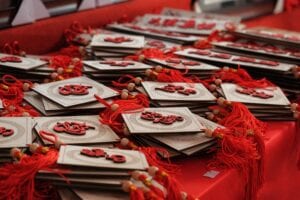 Your Banking Needs
The official currency is the renminbi, i.e., the money of the people, and is valid throughout the People's Republic except for Hong Kong and Macau. When you are going to China to study, do your internship, or just travel, you need to know how to get Chinese money and how to use it. Below are several guidelines on how to use the renminbi appropriately.
China's official currency is the renminbi (人民币 / rénmínbì), which is often abbreviated to RMB with ¥ as currency sign. Also, in international situations, the abbreviation CNY is used, which stands for Chinese yuan. The currency is the renminbi, while the name of all kinds of money is the yuan (元 / yuán). In the shops, you will find the sign 元 more often than the ¥ sign on the labels. One yuan is divided into ten jiao (角 / jiǎo), and one jiao is again divided into ten fen (分 / fēn). By the way, the Chinese themselves often talk about kuai (块 / kuài) and mao (毛 / máo) instead of yuan and jiao.
Technology has moved China toward a cashless society, and the safety of your cash is always protected.
Withdrawing Money in China
You may not need to carry cash in China because the payment technologies are well advanced that the rest of the world. Connecting your Wechat App to a bank account is enough to buy food, pay for entertainment, pay for transport fares, and train tickets. Your rent, school fees can also be settled using this app. There are so many security features installed.
In case you still need to withdraw cash, by far the simplest, fastest, and most advantageous way to get money is by pinning at an ATM. This is almost similar to Europe, but there are some things to look out for.
Firstly, not all European debit cards are accepted by all Chinese banks. At the ATMs of the following banks, you can pin the Bank of China (中国银行 / Zhōngguó Yínháng), the China Construction Bank (中国建设银行 / Zhōngguó Jiànshè Yínháng), Industrial and Commercial Bank of China or ICBC (中国工商银行 / Zhōngguó Gōngshāng Yínháng). In most cases, withdrawal is possible with the other banks, but not always. You can search for the same logos that you can also find on your debit cards, such as Cirrus or Maestro.' If you use a credit card, look for the logos of MasterCard or Visa, but remember that credit card withdrawals from abroad often come with more fees. By the way, before you leave, check that your debit card is valid outside Europe (set it to worldwide). Mastercard's website features a handy ATM finder that you can use to find the location of the nearest ATM.
Speak to your bankers if there are affordable options for students going abroad
Credit card
Of course, it is also possible to bring a Visa or MasterCard credit card. At almost all ATMs where you can use your debit card, you can also withdraw money with a credit card. Also, as opposed to with your debit card, it is possible to withdraw cash in a bank branch after signing with your signature.
Prepaid Credit Card
Don't have a credit card yet and don't want to buy it? Consider using a Prepaid Credit Card. Alipay, which is China's most used financial platform used for payments in general, created a fantastic system for foreigners in China. You can use the prepaid card of the Bank of Shanghai and put up to 5000RMB on it. This credit will allow you to use the system of Alipay, which is used everywhere in China!
Exchange money
Besides withdrawing money with a debit card, it is, of course, also possible to bring cash into euros/dollars and exchange them in China for Chinese currency. You can exchange immediately at the airport, usually in the same halls where you can also find the ATMs. Besides, in hotels where many foreign guests stay, it is also generally possible to exchange money. Some people find it a more certain feeling to have real money with them, but of course, you arrive in China with a lot of money in your pocket. Since it's easy to use external cards in China nowadays as in Europe, it is not advisable to take a lot of euros/dollars with you but to keep it only up and running if you lose your debit card, for example.
Documents apply for study visa China.
If you go to China to study, you will need to apply for a student visa (X visa). A distinction is made between an X1 visa and an X2 visa. The X1 visa is for more than 180 days and the X2 visa for a shorter period. For both visas, always send the following additional documents:
An admission ticket (plus copy) of the school.
A JW201 or a JW202 form (plus copy) sent to you by the school.
For the application of an X2 visa, i.e., if you stay less than 180 days, please also send the following documents:
A printout of your plane tickets both to and over from China. The escape does not have to be back to your own country, but can also go to another country.
A contract to the place where you stay overnight in the city where you go to college. In most cases, the school will help you with this.
If you apply for an X1 visa, so for a stay of more than 180 days, proof of overnight stay and a printout of your airline tickets are not necessary. However, after arriving, you must take someone from your school to the immigration office within 30 days. Your visa will then be converted to a residence permit for the duration of your studies.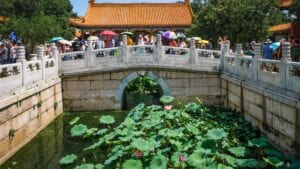 15 Facts that may be useful for your study in China
1. Taboo topics 
In China, you don't discuss politics and how the government rules. You don't bring these issues anywhere and always shy away from criticizing Chinese diplomacy strategies. Don't talk about Hong Kong and Taiwan issues. These are no go areas and don't even text anyone about this. Keep your thoughts to yourself
2. Facebook, Google, and Youtube are blocked in China
Social media sites like Facebook, Google, and Youtube have been blocked. And that also means that Gmail and Google Maps, for example, are blocked. You can use it with a VPN connection, but not all of them work in China. To find out in advance, how you can continue to use your favorite social media. Or use WeChat, as the Chinese do themselves. Review the type of apps you need to download before coming to China
2. Finger signals are different
Chinese count their fingers differently. On the one hand, they can depict everything from 1 to 10. If you order your six beer with two hands, they look at you strangely. Also, there may be differences by region. Ask a local if he can teach you how to count because that's useful.
3. You can't read anything but few Translated 
Everything in China is indicated in Chinese: signage, public transport, and also hotels and restaurants. You can't read anything at all. That can be a little tricky. Luckily, some cities like Shanghai and Beijing became more international recently. Therefore, many things are now also translated into English. You also get arrival Chinese Language Support to help you survive the first few days. China Scholar team are always here to support you.
4. Most people don't speak English on the streets
It seems logical in the countryside, but even in big cities and in places like hotel receptions or at the airport there is a higher probability of finding an English speaking staff. on campuses, many Chinese students speak English and its easier to make friends
5. Beauty products have a whitener
All beauty products from moisturizers to shampoo and from deodorant to make-up may have a whitener. Also the big, well-known brands. So pay attention before you buy anything.
6. Practice your karaoke skills – its Big in China
Want to bond with friends, want to network, or even distress? KTV is the best place in China. If you go out with Chinese, chances are they'll take you to a KTV room. An overly decorated room, complete with a microphone where you can drink all evening and sing songs. A fun experience guaranteed!
7. Getting paid to party – Mind-boggling 
As a Foreigner, you get paid regularly to enter a club. When Chinese see people from other countries partying somewhere, it means it's a cool place, and it attracts more Chinese. Do not lose your modesty because of this, though. Chinese people strongly prefer humble people.
8. Practice your dance routine
When you go to a club, make sure you've had a dance routine with your friends. In China, they like to dance the same choreography in groups. If you don't know the passes, you're on your own.
9. A lot of air pollution – Keep your masks on
Know that there is an incredible amount of air pollution in China, especially in large cities. You can see that, and you smell it. Also, you're going to cough and lose your voice. It is, therefore, inevitable to wear a face mask. You can buy it from any pharmacy.
10. Traveling through China is super Easy
You will be amazed at how easy it is to navigate China. You can plan your travel plans with friends. There are instructions and information available on tourist sites and places. China is well networked, and the train system is fantastic, and you can rely on it
11. Strange Chinese customs
Prepare yourself for this one, because customs and manners are very different in China than with ll visitors to China. If you come to China for the first time and you're not prepared, you don't know what's happening to you. The best thing you can do is blend in with their customs to avoid any unnecessary humiliations. Learn not to humiliate people in public, don't tip at the restaurant and expect to see the unusual.
12. Chinese table manners
There are very different table manners in China. Consider local habits to avoid getting weird looks and situations. First of all, they do not use forks. Chinese people usually use spoons for liquid food and chopsticks for all the rest. Also, table manners could be different per city or province. Therefore, do some research about the place where you will go in advance. Additionally, make some Chinese friends that can teach you the local customs and manners.
13. China is immensely big
Know that during a tour of a few weeks, you can't see everything. Make planning of what you would like to see in advance and see if that is realistic in terms of distances. In China, you will find the largest high-speed train network in the world, which can be super useful to cover vast distances quickly.
14. Four is an unlucky number
Never ask a Chinese for four things, because in China 4 is an unlucky number. Because the name 4 sounds almost the same as "death," it is seen as a bringer of misfortune. Get more information on gift-giving in China in this article
Hopefully, you are now more prepared for your trip to China. If you follow the advice above, you are less likely to come across unpleasant surprises.
Study in China Frequently Asked Questions (FAQ)
You have read so much about China as one of the most fascinating countries to study abroad. You might have so many unanswered questions about planning your study in China or you are not sure how to get begin planning. We have here a list of frequently asked questions to assist you. Feel free to submit enquiries and get free consultation from our team
What are the most popular cities to study in China?

How much does it cost to study in China?

Do I need a student visa?

What are the best times to study in China? Sumer or other times/h3>

What are popular courses for International students in China?

Do I need to speak Chinese Language to study in China?

what accommodation options are available to international students?

How to apply for Scholarship to study in China?