Mobile Payments Apps that are Useful for Foreigners in China (Alipay & Wechat)
As the world push for a cashless society, many entrepreneurs and technology companies continue to invent new solutions. There is no shortage of apps built on different security systems purporting to be payment solutions. Interestingly, China is light years ahead of the world when it comes to nationally patronized solutions. Over a billion people in China now buy and sell without the use of cash. Some phenomenal applications have been tried and tested over the years. From online e-commerce, food vendors, restaurants, buying tickets, and train tickets, foreigners in China, including native Chinese, can go cashless without encountering any paper money.
Most notable apps like Alipay and WeChat have transformed China into a cashless society, and transactions are settled at a simple scan of a QR code or clicks on payment links. Chinese have created a completed ecosystem of applications covering the everyday life of people living and doing business in China.
Whether you are an international student studying in China, living in China and working or you have plans of moving into China, this article will guide you through the process of installing and connecting your payment apps. We have step by step guide to installing and linking your accounts.
But let's try to summarize how this will all work out and later drill down into the very details of operating an E-wallet through the major payment service providers.

You will learn from this article.
You will learn step by step process to install Wechat and Alipay.
To use Chinese mobile payment apps like Wechat and Alipay, it is ideal to have a Chinese bank account. Wechat lately could accept international cards (both Credit and Debit cards), but many have complained it just won't work
You then need to install the applications and activate them. If you are traveling to China in the short term, this may not be an ideal payment app for you
Travelers categorized as International students and those going to work in China, it's easier to open a bank account so that they will find these apps handy and very useful to us.
These mobile payments intrude on all aspects of life. You can pay Utility Bills, top-up your mobile airtime, buy groceries, shop online, pay for transportation, and also other essentials. I am yet to see any aspect of life that these apps do not support.
Mobile Payment in China
Paying your bills in China can be done in more ways than you can imagine. Usually, using a credit/debit card or cash would be accepted everywhere. But in China, it might be different and its all mobile. Some shops cannot take cash nor credit/debit cards. Therefore you should make alternative payment arrangements. You will spot either one or several QR codes from different mobile payment companies. These QR codes are used to make payment by scanning them with a mobile device.
To scan the QR codes, you need a Chinese payment app that is meant for these codes. This could be AliPay, WeChat Pay, or a smaller company that supports these types of payments.
Mobile Money In everyday life
I am sure by now, and you understand that in China, transactions are cashless, and the mobile phone in your pocket has become your mini ATM. With the smartness and speed of technologies, it all works like magic. In the past, the inconvenience of holding too much cash and not finding the right denominations of little purchases was seriously annoying. Even with the use of swiping cards at the Point of sale terminals (POS), the insecurity of typing pins and passwords made many people uncomfortable. No wonder these smart IT solutions through mobile payments have become acceptable to everyone.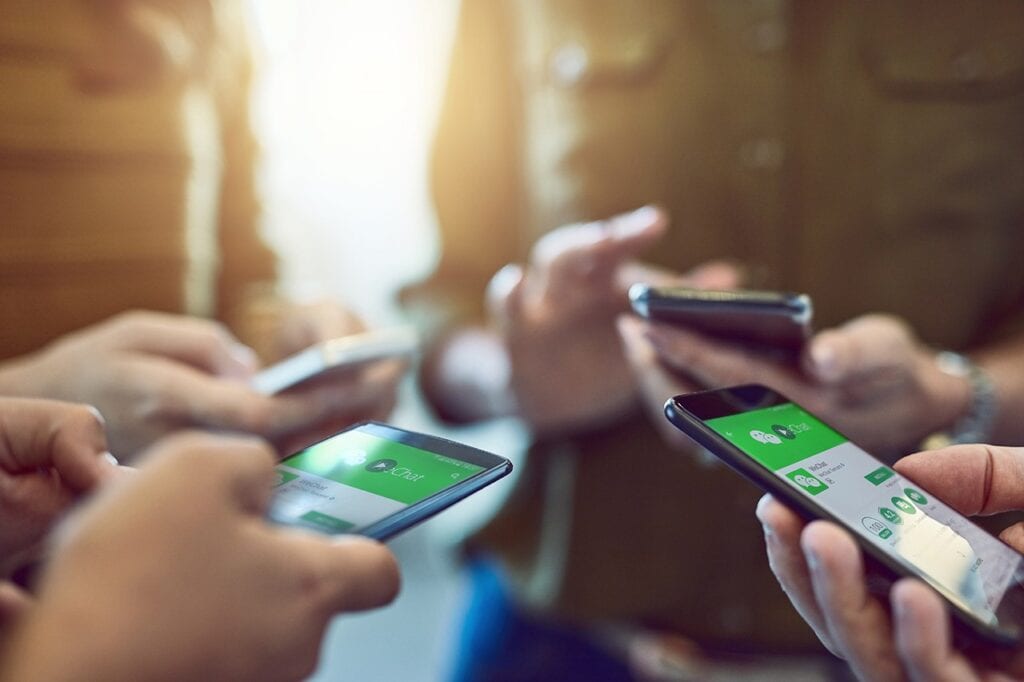 Top 4 Payment Apps, Every International student in China, should Download
Alipay by Ant Financial (Alibaba Parent Company)
Alipay belongs to the all famous Alibaba company formed by Jack Ma. It is the most dominant payment application in China used by many on the largest eCommerce platform Taobao in China. You can connect directly to your bank account and verify your identity to begin using it for any transaction. The Alipay Ecosystem is all-encompassing. It stands alone as an application and has a rich set of functionalities. The next time you are in China and need to go to the movies,  buy some drinks, pay your bills or even shop online, Alipay is the sure bet. You can make payments to friends, families, and businesses. Most importantly, you can top up your wallet with your bank balance or transfer money to your bank account without any restrictions. There is a Chinese version and also English and other languages.
WeChat Pay (WEPAY) by Tencent
Wechat is a social media app in China – the Facebook of China. It is the daily life of everyone living in China. It comes with powerful messaging platforms and groups. With WeChat, you can never be isolated in China as its more straightforward to make new friends.
Wechat has a payment solution integrated into their social media application. So it is not only used to chat but also make payments and transfer funds to friends with ease. Just like Alipay, WeChat could be used to settle utility bills, pay for groceries, buy tickets, and shop online. Most importantly, you can top up your wallet with your bank balance or transfer money to your bank account without any restrictions. The app operates both in English, Chinese and other international languages.
Didi Chuxing – The Uber of China
As you go around town and explore the beautiful architecture of China and visit museums and parks, you don't need to worry about transportation. With Didi installed on your phone, you don't need to worry about finding a taxi to your next destination. Upon opening the app, it can pick your exact destination, and all you need is to type your destination, and the next taxi is just around the corner. You can use Chinese and English versions. Didi allows you to connect your bank account and make payments directly or recharge your wallet against travels. You are also free to use Wechat or Alipay with this application.
Meituan – For ordering food
Meituan, it started as a group buying application and has expanded into a big ecosystem with several functionalities. If you need discount codes for purchases online, they are very famous for these solutions. But their brilliant "Waimai" app is used to purchase food online and are delivered in minutes. If you are in China and cannot go out to eat or feel lazy to go, this app could come in handy. 

Using WeChat or Alipay to Settle Payments in China
The convenience of using these payment apps in China is not comparable to any experience. No matter how small the businesses are, they have these payment solutions to back the settlement of their services. The little massage shop around the corner of the small shop downstairs selling noodles has all these apps available for payment. All you need is to scan a simple QR Code on the wall.
They have improved their app ecosystem to fit your life. It services that sell items on social media could also connect to these apps, making life easier for all.  The security of using these payment applications is reassuring. There are always new features to support the safety of your monies. IF you find yourself in China for any reason, don't forget to look for these payment apps.
WeChat Ecosystem of Applications
WeChat started as a social networking app and now redefined to cover several areas. It is now recognized as a social Ecommerce app, a payment app, a marketing app, and many more. Due to its great features, Wechat grew to become very popular. It's now part of our daily lives in China. You basically cannot separate your lifestyle from WeChat- Never!
WeChat Pay Mobile Payment
WeChat grew to become a host of other services from payment, eCommerce, advertisement to the taxi-hailing service provider. The WeChat Pay has become one of the most popular payment apps in China such that everyone has it, including the smaller groceries at the corner. Pick whatever you want, get the price scan, and pay! The good news is that the Wechat is multilingual with English and Chinese Version.
Let's Look at the features of WeChat Pay.
First of all, try and install the WeChat app from your phone app store. It is a straightforward process to get started with. The process is very simple and straight forward, just like installing other apps. Select English as language preference and bingo!!! The installation comes with all the needed apps and services in the ecosystem. Do let's look at how to access WeChat pay.

How to launch the Wechat Pay
Click "Me." It's at the far right of your phone after launching the app. You will find WECHAT PAY listed as one of the menu (usually on top) click on it, and you will see the entire payment app structure and what you can do. Here is a list of some of the features
Paying back your credit card bills – CARD REPAY
Mobile top-up Features
Checking balance in your wallet
Paying Utility Bills
Transfer payments
Send Reb envelopes
Add bank cards
Ordering Taxi
Linking Your Card to WeChat Pay- Integrating Wechat on your mobile app
Step1: Open Your WeChat Wallet or Ask a Friend to send you some Money
Click on the Wallet icon to bring up WeChat Pay to add a bank card. If you registered with an international number, then the wallet might not show instantly.Ask a friend to send you money first and the wallet will popup

Step 2: Start to Verify and Add a New Bank Card.
Here onward, the process is virtually the same as Wechat. You'll need a China bank account that is linked to your Passport. After connecting your card, you will be required to provide an ID document.

Step 3: Enter Your Bank Information and set Password
Complete the required information. Choose Passport as ID. It is crucial to note that you must provide same ID details to match exactly as the Bank records. You also get a code to your phone which you use to complete the authentication process. If you encounter any problem, its due to the spelling mistakes or name.

Step 4: Check Your Bank Card and Add Additional Cards
You are done with the process and your cards and balances should display in the app. Just like below

Wechat pay Tips
The app once connected works in the background and could be used alongside other applications for payment purposes.
If you want to make payment, Just click the "+" button at the top of the screen and choose – Money. Your QR code will pop up on your screen which the vendor could scan and complete your payment.
You can also receive monet buy clicking on the little button 'Receive money' others can scan and pay you directly.
Other Handy WeChat Features
Go to "Wallet" again and you will discover many more options. Buy a movie ticket? Order a taxi? You can now buy train tickets, movie tickets and book hotels, and you can also topup your mobile airtime

Alipay Mobile Payment App
Alipay app's interface is the same as that of the WeChat Pay. It has similar functions as wechat pay and could book hotels, buy tickets etc
AliPay – Operated by Ant Financial
Alipay's payment system launched in 2004. In the past few years, they became the most extensive payment system in the world. The majority of Asia and significant parts of the Western World know about AliPay or have at least of it before. The system developed itself together with the development of technology, making it more and more convenient to use each year.
Over 1,2 billion people use AliPay daily. Not only is it convenient for in-store shopping, but also online shopping and even paying for bills. AliPay's possibilities are endless, making it a fantastic opportunity for the modern world. The amount of users grows each year exponentially, while AliPay keeps adding more features and updates. From businesses to individuals all over the world, the app is truly an economic masterpiece.
In 2014, Ant Financial Services Group was established from its previous company: Small and Micro Financial Services Company. This year, AliPay itself also made a lot of developments. For example: making it possible to use fingerprint for making payments. AliPay was the first company in China to be able to use this, which made it even more convenient to make any payment.
Ant Financial is an affiliate of Alibaba, the" mother" of companies in China. Alibaba is one of the biggest firms in the world using multiple associates to reach their goals. AliPay is a company to make payments either online or offline, but Alibaba also owns Taobao, which is one of the most significant shopping platforms in the world. Taobao is an online marketplace competing with eBay and Amazon. AliExpress is similar to Taobao but made for international trade. This platform allows people from other countries to order almost anything directly from China.

How to use AliPay
The complex system of AliPay is simple to make payments but has an enormous amount of features. This makes it sometimes difficult for new users to use it well. Especially for foreigners, it could be a challenge since many features are entirely in the Chinese language. Luckily, if you just need to use the app to make a payment, then it may be very easy to use.
To use AliPay as a foreigner, it is recommended (but not necessary) to have a Chinese bank account. If you are traveling or studying in China for a short period, then opening a Chinese bank account may not be that convenient for you. But do not worry, since there are other ways to use the payment system of AliPay.
Long Term Visitors / Chinese Bank Account Holders
Typically, you would link your Chinese bank account to your AliPay account. This makes it possible to directly make payments from your bank, using only your mobile device. AliPay also requires you to verify your identity using your details. This strict system prevents scammers and robots from abusing the app, which saves a lot of trouble. It is straightforward to verify your identity since it most likely is in a tutorial when you open the app for the first time. If not, then go to your profile inside the app, and follow the guidelines for setting up your AliPay profile.
Short Term Visitors / Non-Chinese Bank Account Holders
If you don't yet have a Chinese bank account, either because you are a short-term visitor or you feel like another bank account is unnecessary, then you can take the following actions. The Bank of Shanghai has implemented a system in AliPay called the "Tour Pass." This handy feature allows you to put prepaid credit on your AliPay account. To deposit money on your prepaid account, you need to verify your identity and credit card details. AliPay currently supports a total of 110 countries, including the United States, Russia, Germany, and the Netherlands. Unfortunately, you are limited to using a credit card, since the debit card is not (yet) supported in the AliPay system. The supported credit card companies are currently: VISA, MasterCard, UCB, American Express, and Diners Club International.
The maximum amount allowed on your prepaid account is currently 5000RMB (2020/04/28), which is around €650 (0.13) or $705 (0.14) at the moment. This amount could change in the future since the maximum amount in 2019 was only 2000RMB. Making large payments such as paying for rent, or buying expensive goods are advised to either pay in cash or make several payments using your AliPay account (since the prepaid account can only be topped up to 5000RMB). The fee of depositing your prepaid account depends on the charge of your credit card making international payments, and this should be between 2% to 5%.
Linking Your Card to Alipay Integrating Wechat on your mobile app
Its now time to connect your card to Alipay. The process is same as wechat card linking.
Step 1: Most important step- download and signup with your Phone number
Visit your app store and install Alipay app- its so easy, then sign up with an existing mobile phone number. The app will send a confirmation code to the number you provided. Insert the code and proceed to set your passcode.

Step 2: Pair Your Bank Card
Click "Me" on the right bottom corner, then tap "Bank Cards". If this is the first card , the system prompt you to "Add Card" – tap that command. Provide the required details and proceed

Step 3: Add Required bank Card Details
Add your Chinese Bank Card Details and if you have international cards feel free to us that too. To receive funds, make sure you add the Chinese card first

Step 4: Confirm your Bank Details
You will be asked to provide an ID to authenticate your account, always make sure you use same ID as you used to open the bank account – these two details much match . if you are unsuccessful, it is likely that there is a mismatch.
So if your authentication works, you will receive a code from Alipay. Enter the code to complete the pairing process

Step 5: Start Sending Payments!
After linking your card, the bank number will now appear in the "Cards" section. You are all set to use Ali pay for payments. For on-location payments, just tap the "Pay" button to load your QR code. The QR code is avilable and can be scanned by vendors.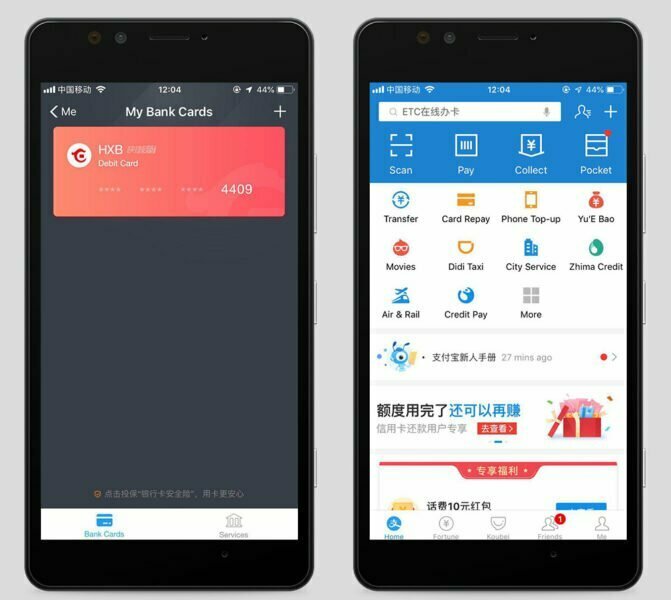 Find our about Other Great Alipay Features
Log into the app and click on "More" in Alipay's main menu, there are extra features there for you to discover.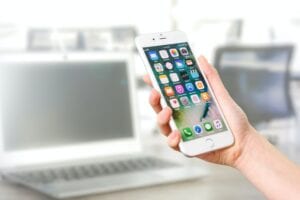 Using AliPay for Short-Term Visitors in Steps
1. Download the AliPay App on your mobile device (Android/IOS)
2.Set-up your Profile and Verify your Identity (In case a bank account is required, try to fill in your current bank details. Using a foreign bank account will not allow you to make payments in China, but will at least help you to set up your AliPay Account).
3. Go to the Home Page of the App and find the section: "Tour Pass" (If it is not on the Home Page, you can find it under "Fund Transfer" in the "All Apps" section).
4. You are now on the Prepaid Card page of the Bank of Shanghai, where you need to select the amount you want to deposit on your Prepaid Account (Max 5000RMB).
5. When you entered the desirable amount, select your Country/Region and fill in your Passport Details.
6. After filling in the Passport Details, you need to enter your credit card details (VISA, MasterCard, UCB, American Express, or Diners Club International).
7. When all the fields are completed, you need to check the box saying: You agree to enter into the "Bank of Shanghai Service and Quick Payment Agreement."
8. As long as there is enough credit on your Prepaid Account, you can make payments using the AliPay app.
9. To make a payment: go to the home page and select how you want to pay (Scan, Pay, Collect, or Pocket).
What should you Choose? WeChat or Alipay
Thats a tough call as both are prevalent in China as a mobile payment app because both apps; Alipay and WeChat are widely used. It is possible to use both of them at any store, cafe or taxi.
Want to Study in China? You will love it.
Everyone should be able to study in China in a lifetime. The culture is beautiful and unique, as well as the experience. China Scholar provides admission services and career development programs in China. We have changed the face of admission to include a comprehensive service package. Our clients do not have to worry about making study and career choices alone. We have PhD. holders, professors, and experts in these fields who support our students to make life long decisions.
Aside from getting admission into a top Chinese University, you get career consulting, Internship placement, job matching, Campus support, Assimmialtion services, and access to our student communities all year round. Submit the inquiry form to book an appointment with our team