Study With Chinese Universities
China is a diverse country, with 5000 years of fascinating culture and history. There is no shortage of beautiful scenery, but most importantly, there is plenty of opportunities for young people in China. It may seem daunting to design a study in China, but contrary to this assumption, it's rather easy. A burgeoning world power with the most robust consumer market, and breathtaking technological breakthroughs, China has a quality educational system.
China has invested massively to revamp the capacity of its universities and has provided the needed resources and strategy in pushing the internationalization of Chinese Education. Peking University, Tsinghua, Fudan University and other reputable intuitions make it into global university rankings. China has the best training and development environment to transform lives. This is why Many International students now prefer to study in China alongside the fact that its relatively less expensive compared with other destinations like the USA, UK, Canada, etc. Scholarships are available to subsidize the costs as well- You could study for free in China.
If you are considering to study in China, here are the detailed steps to steps for applying to study at a Chinese university.

How can I apply to Study in China's Universities?
There are several ways and approaches to securing admission to study in Chinese Universities. You can easily apply to study through China Scholar or Applying directly to the university. Applying through China Scholar is the easiest of all, such that we take care of the entire process by assisting you in making critical study decisions. Our experienced admission staff and Mentors are always available to support you through the process. We have a well-established platform, linked directly to the universities. China scholar does the heavy lifting while you relax and prepare for arrival. You can also apply to many universities with a single form.
1.  First of all, You need a Study Plan
First things, first! I see most Admission agencies, and likewise, students skip this process. It's a tragic mistake, folks! This is the most crucial of all steps. It is essential to reflect on your study expectations, lifelong goals, and career goals and then get assistance fitting them together. The essence of doing this is to avoid making inconsistent decisions. Our experienced Career Mentors, Study Coaches, and admission officers will assist you in streamlining all these together. Our Premium Admission Support services take care of all these
2. Choose the right degree /course/ subject in China
After Accomplishing the research, planning, and reflection stage, you will be in a better position to decide what works best for you. We achieve this through a consulting session where students will be guided. There are plenty of disciplines and areas you can select from to study in English at Chinese universities. You may also opt for Chinese Taught programs. Here are some important resources for your consideration:
Engineering
Economics
Study of Chinese Languages
3. Choose the right city
You will need to decide what experience, the environment you will prefer to study in China. There are Cultural Cities, Metropolitan Cities, and Coastal cities, cultural and touristic centered cities. These features will inform what part of China you should find yourself. Selecting the right city to study in China is not a difficult task. There are few questions to answer, and it is easy to pair you. Some of the cities preferred by international students are:-
Beijing
Shanghai
Hangzhou
Chengdu
Xi'an
4. Selecting the Best Chinese University to fit
After designing a study and career plan and knowing where to study in China, you are now ready to decide the university to apply. The courses you select at the planning stage will define the type of university. Every university has its strengths and courses that thrive. At China Scholar, we consider factors such as Ranking, Campus Design, and proximity to the city center, location, and other inherent factors. Here are some top Chinese universities you should consider for your study abroad adventure:
Peking University
Tsinghua University
Beijing Normal University
Fudan University
Xiamen University
Shanghai Jiaotong University
Also, check our Bachelor Degree and Master Degree taught in English
5. Getting Ready to Start Application
So you are now prepared to proceed to the application stage. Here are a few guidelines to get started. If you are applying through China Scholar, there is a properly laid out admission process we will walk you through before Application begins
Start the process early enough to avoid rushing the process. There are several universities in China and several Scholarship and study opportunities. Make time to reflect appropriately before proceeding
Crosscheck Each university after shortlisting and be sure you meet their admission requirements before proceeding
Check the admission documents are in the right state. Check out the admission documents here.
So you should also consider experience requirements and age limits before applying
Sometimes its possible applicants may be rejected in their first offer. On this basis, we encourage you to apply to at least three universities. On the China Scholar platform, you only need to fill out a single form but can apply to several Universities
Get your motivation statement written. Some students find it challenging to write. Our admission officers will assist you with put together a complete version
6. How Do you submit Application? Where do you apply?
At this stage, you will need to apply to the university. As discussed above, there are two ways; going through a university directly and handling the process by yourself or applying through the China Scholar Platform. Regarding the application process, Chinese universities allow international students to choose one of the following options:
For many, the best way is to apply through Admission Platforms to reduce the stress associated with the process.
Apply through China Scholar-HUB – A study in China Service provider with a complete service package
You get admission support through all the steps above, without any stress
We deal with planning, city and university selection and document preparation
You also have the opportunity to add other services such as airport pickup, internships, career development, etc
You will be allocated to a personal admission officer who will answer all your questions, engage your parents for a successful study in China
While in China, you get complete access to our community, events, job boards and many more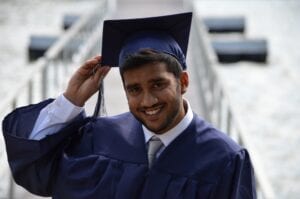 7. Consider Language requirements
English taught programs to require an English proficiency test for Non-Native English language speakers. If you have completed your previous study in English, there may be some exemptions and waivers. But generally, the following test will be required
If you speak Zero Chinese Language but want to study in Mandarin, you can opt-in. If you already have a solid base, you don't need to worry. Most of the requirements are
Applicants are allowed to study the Chinese language intensively for a year to pass the exams above and then proceed to begin their study year. Many students do opt for this option
8. Required application documents
There are some vital documents needed to secure admission into Chinese Universities
Passport photo
Photocopy of valid passport valid for at least six months ( we advise one year)
Health certificate ( there is a form for your doctor to examine you and fill out)
non-criminal record Certificate
Chinese/English language proficiency certificate
Letter of guarantee from parent or sponsor
Two reference letters from Employers or past tutors
Financial Commitment for Fee-Paying Applicants- Proof that you can support your studies in China
Certificate/diploma from last Educational institution – or if you have not graduated yet, a letter from your current institution stating your graduation date
Academic transcript from last graduated school
Updated Resume  or CV
9. When is University application deadlines for Chinese Universities?
Are you wondering when you should apply? There are spring and fall semester admission seasons. We recommend that you begin your admission process as per the dates below
Spring semester (February Intake): Complete application process by October of previous Year
For the Fall Semester (September intake): submit the Application before the End of April.
10. Find scholarships to study in China.
This is an essential aspect to consider. Applicants who wish to study in China could apply for scholarships. There are many Scholarship for international students who want to study in China. Everyone loves the support and free money, especially to cover study abroad expenses. We encourage all students to are considering studying abroad in China to apply.
We have a dedicated scholarship application process
11. Final Steps- What happens after Application
After submitting your application, here is a list of what lies ahead
Wait for Admission Decision
Submit further documents when requested
Take delivery of your JW202 or JW201 when you finally get an admission
Applying for a student visa
Arranging your flight details
Insurance Arrangement
Arranging Airport pick up – We do have such services for our clients.
The application process in steps with China Scholar?
China Scholar has streamlined the application process to remove all manner of stress from the admission process. See below our admission procedure.
Submit an Inquiry form, book appointment to speak with us
You will be allocated a personal Consultant.
Get the Panning process Completed with the Help of your admission Consultant
Select the Courses/program you want to apply to
Complete a single application form to be used for multiple applications
Document Review and Correction
Settle Admission Application fee
Track your admission status through the CS-Hub
When Admitted, we deliver your admission documents.
We assist you to apply for Visa,
Assist you book accommodation to Study in China
Get access to our assimilation, airport pickups, career services, campus support and mentoring, etc
With dozens of options coming with a variety of flavors, China scholar will support you in finding the perfect Course, University and Support. Do a little research by searching Programs, Courses, and Scholarships. Submit an Inquiry now!
More Information About Education in China
More About Registering with a University

Chinese University Education

Chinese Bachelor Degree

Master Degree In China Insight

Ph.D. Programs in China

High School Admission and Education in China

Fun Facts About China