A Guide to Select A Suitable Course for Your Study Abroad
Selecting a major or a course for your study abroad project seems daunting, but pause, we have you covered right here. We have two scenarios here, but a similar solution applies. Selecting a Major for your Bachelor's Degree or Master's Degree. So you just completed High School and considering your next move, maybe you have also settled to proceed with a bachelor's degree. It is also possible you currently hold a Bachelor's Degree and considering further studies. Well, it's reasonable to be overwhelmed at this stage because your decision will impact your future. The worst case is that most advise for people like you are scattered all over the internet and mostly inconsistent
Okay! I got it. Let's take a deep breath and review this together one after the other. Whether you are a fresh college aspirant or a returning student, it may not always be easy to select a degree program. You want to make the right decision to fit or provide the best career solutions for you.
Fortunately, we have these services for students who are considering studying in China through the China Scholar Admission services. There are Career Experts. Coaches and Mentors who will guide you through a professional process of self-discovery and course selection. Here is a guide to help you reflect and make the next decision before studying abroad.
What are the benefits of studying abroad?
Whether you want to continue studying abroad or graduating abroad from a university, the great advantage of studying abroad is that you can practice your language skills outside the lessons in everyday life.
However, there are many other reasons why studying abroad is the right choice. Together with all the international students, you will undoubtedly have a great experience. Even though you're far away from your familiar surroundings, you won't be bored with your Internatiional studies. In short, studying abroad is the right choice in every way!
In the globalized world we live in today; language skills and intercultural skills are the keys to success. Discovering new places, immersing yourself in another culture, and making new friends from all over the world are proven factors for long-term success – both personal and professional. But how can you learn a new language in the most efficient way? Only by studying abroad!
Studying abroad after high school, during the summer holidays or a career break: during every stage of your life, studying abroad brings new knowledge, experiences, and memories that will enrich your life forever.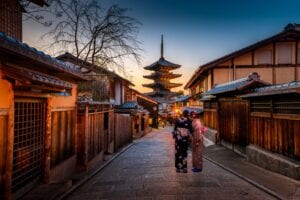 Find out what suits you
Easy to put, a lot of hard work is done. But: it is vital to find out which study suits you. For example, ask yourself the following questions to learn more about which study suits you:
What am I good at? And what makes me happy?
Whats are my favorite subjects, and which boxes go or went well for me?
Select the type of education that fits your life long goals
Strength and weakness review
Your expectation from student life, and what do you think is essential?
How do you see yourself in five or ten years?
Write down your answers and fill them up if necessary. You have now mapped out some critical things that will help you in the search for your studies.

1. Do a little Reflection and Know Yourself
Understanding who you are and what you stand for or even which career will fit your personality is not a simple process. It takes several years to refine and understand who you are and what you are good at, but there is a way out. Let's take this slowly. First of all, you can do deep reflection and soul searching to understand your strength and weakness, as well as your likes and dislikes. Life Goals are essential, and it is always ideal for taking time to work on them. China Scholar Admission advisors are professionals when it comes to self-discovery and Degree selection.
Let us reflect on the most popular career fields and their career tracks and their relevance to the future. Below are some examples to start with and you can extend the list by yourself
IT, Programming
Engineering and Construction
Environmental Sciences
Medical Studies
International Relations
Business and Finance
Spend time, reflect, and listen to your inner-self for some tips. There are several mediation practices out there for you to refer to.
Thirdly, you should engage yourself and a circle of friends. So you should begin by asking yourself; what role do I play best in a group? What skills do people praise you for? When put into a team, what tasks are you able to complete with ease? You are probably the tech-savvy guy and fix all Brocken laptops at home, or everyone comes to you for software installations. You may take charge of organizing trips or bringing ideas on where to go next. Some people are just fascinated with volunteering and helping the less privileged, old aged, and sick people.
I am sure by now you are getting the clue, try to follow what you enjoy doing and your prolific skills. These are leads and indicators that may be subtle but essential to your decision. Don't complicate the process
2. Future Prospects, Jobs and Salary indicators
After fulfilling the steps above, you probably identified a list of interesting majors. But don't worry if you still haven't identified any yet. Following the money could get your attention and focus. If there is no future for a particular course or program, you have no business wasting your time studying it. Don't enroll in a school to study Stenography – it is a dead career. The salary scale and your ability to make good ends meet in the future is essential. So if you're to study, why not follow the money and jobs?
According to research, these are some of the sectors and career areas that you should consider. They will be here for a while:
Computer Sciences, Programing, and General IT
Law
Engineering
Business Courses
Psychology
International Relations
3. Choose a country with Opportunities
As the 4th industrialization burgeons, there are new superpowers and economic juggernauts arising! Modern economies are rising while others are dying. Your decision to study abroad should take you to countries and cities that are relevant to the future with plenty of opportunities for young people. There is so much happening in terms of technological breakthroughs and social impact projects. These are transforming our lives and making the world an exciting place to be. Take time to search through as many destinations as possible to find courses, majors, and degrees that fit your expectations. China is one such country for your consideration. Chinese Universities are offering some great programs for
You can check the majority of the countries available, or you can check the most popular destinations, like:
China
Australia
United Kingdom
Germany
Japan
After deciding on the city, you should go for it! There is so much to discover out there that will transform your life. While you travel abroad, I bet you will experience a new culture, language and meet new people.
4. Ask others in the Career Field or friends
You may not be the only one going through this journey, and its essential to hear how others made up their mind. Filter your list for students who have studied abroad or are currently studying at University.
Another critical group of people to speak with are Career people. You may resort to mentoring support from successful Career people. Some Human Resource Managers will be willing to guide you or at least provide some tips.

5. Research About the Right path to Graduate study
You should only consider courses and majors that have a clear path to graduate study or with progressive career growth. You must be able to study further and upgrade yourself. It is okay to make career changes later, but it is ideal for getting this sorted at the basics. Some programs will offer a double major or a major and a minor. These types of combinations are also great.
If you get University admissions that lead to double degrees, you may also consider reviewing them.
6. Seek for help
Seek for help very early, and I cannot overemphasize this point. You will save so many times speaking with Career Experts, Coaches, and Personal Development Professionals. You may get these services for free in the community, churches, or even your previous institutions.
7. Consider the University application processes and visa
Well, many international students will frown visa issues and cumbersome application procedures. You should use the services of a professional admission agency to ease the application process. After selecting the right major or course, you are sure to get a second expert opinion.
It is essential to check through admission requirements of various universities to ensure you meet the criteria. There are some universities with exceptions to qualifications and admission processes.
If you apply through a placement agency, some of these issues are covered, but you have the option to apply directly. As an admission service provider, we are a little biased to this recommendation.
The China scholar program provides all the admission services you will need. With a personalized admission process, we help you through all the stringent processes. You get expert advice on the qualifications and documents required. We also deal with the Visa assistance process.
Are you applying to study in China? We have a detailed article explaining how to secure admission with a university in China.
8. Don't ignore your expectations for the host country
Though this may not relate to your experience, it will guide you to decide between two destinations for your study abroad project. What are your expectations? Do you want to experience authentic culture, meet new people, learn a new language, or even work abroad? These factors should inform your decision.  The cost of living in the country, nightlife, safety, etc. should also be your guide.
You may select between the higher cost of living or lower tuition fees or both. The tuition cost of Eastern European Universities is high, but the cost of living is low. Scandinavian countries will have a lower cost of tuition but killer living expenses. There is a sweet spot where both cross and that's studying in China. The cost of living in China is lower as well as the tuition fees, and there are scholarships available for international students. You may study in China for free.
9. Never forget to have fun
No matter your final decision on course selection for your study abroad, you can't be wrong. The time spent abroad is not limited to your classroom or library. There is so much to life as you go out. Keep calm and learn hard, explore networking options, enjoy the nightlife, and keep an eye on your personal development and Career.
Take your time management seriously by juggling studies with living. Attend classes, contribute to your group works, and take your dissertations seriously. Don't ignore the need to remain excellent at whatever you do.
10. Gap Year
One efficient way to test if a course or significant will be ideal for you is to shadow or intern in your career field. High School Internships will expose you to the real world of work, and you are free to crosscheck your career against your values. If you cannot do it before leaving for abroad, fret not. Gap Years are not only for internships, its an opportunity to take some time off from studies and grow up.
11. Internships Abroad
To select the right course or major for your study abroad does not end with getting an admission. While abroad, take some internships related to the fields you selected. If you get cold feet, you can speak with your course instructor and request a course swap as early as possible.
Before you click away – Read this.
We know the decision to select a course or significant for your study abroad project won't come easy, especially given this is the first time. But hey look! It's so easy to do, all you need to do is to kick start the process, and the rest will flow. Remember to start early and speak with as many people as possible I know this may seem like a lot to process, but it's easier than it looks: once you start, you'll see that all steps are manageable.
If you need any assistance, our Career Advisors and Admission experts are always standing by to help, Don't shy, just reach out to us