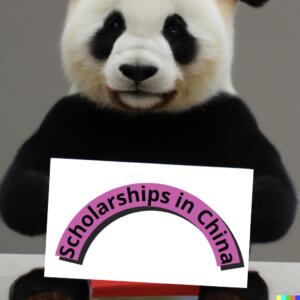 Scholarships for foreign students in China have increasingly been in high demand by international students seeking higher education opportunities. In recent years, the Chinese government has recognized the value of attracting talented students from around the world and has established a variety of scholarships to attract foreign students and promote cultural exchange.
In this all-inclusive Guide to Scholarships for International Students in China, I take you through some major scholarships in China for international students.
They include Chinese Government Scholarships, Local Government Scholarships, Confucius Institute Scholarships etc. Access the official website for scholarships in China for international students.
The comprehensive guide provides an overview of scholarships in China, including eligibility requirements, application procedures, and tips for a successful application. The guide aims to assist you in pursuing your academic aspirations in China with the support of a scholarship.
Chinese Government Scholarship (CGS) for international students
The Chinese Government Scholarship program is one of the international student scholarships in China. It is funded by the government of the People's Republic of China (PRC).  International students looking to pursue higher education in China are the main targets. It covers tuition fees, living expenses, and other costs related to studying in China. To be eligible for Chinese Government Scholarships, applicants must have excellent academic records and meet certain criteria set by the Chinese Scholarship Council (CSC). The CSG official application portal is here
Eligibility for Chinese Government Scholarship
To be eligible for Chinese Government Scholarship, applicants must:
Be a foreign citizen and not a Chinese citizen or Chinese national
Meet the age requirement of 18 to 35 years old
Have excellent academic performance
Be in good health (both mentally and physically)
Have no criminal records
Provide all other supporting documents required by CSC
Have passed HSK 3 level or above for Chinese-Taught programs.
Satisfy the admission requirements of the university of preference
Application Procedure and Required Documents for Chinese Government Scholarships
Comparatively, the application process for Chinese Government Scholarship is quite simple and straightforward. Applicants need to provide basic information about themselves, such as passport number, contact details, educational background, Chinese language proficiency, etc.
Application documents
Agent number of Chinese universities
A copy of passport
Personal statement
Two letters of recommendation from professors or associate professors
Notarized highest diploma and transcripts
Foreign Physical Examination Form for Chinese Government Scholarship
Scholarship Coverage for foreign students
The scholarship benefits include:
Tuition, accommodation
Monthly stipend: CNY 2,500 per month for undergraduates, CNY 3,000 per month for master's students and CNY 3,500 per month for doctoral students.
Comprehensive medical insurance: CNY 800 per person per year; CNY 400 per person (for programs lasting less than six months)
 Application Process for Chinese Government Scholarship
The Chinese Government Scholarship application is mainly done through the official website of the CSC
You must fill out and submit the CGS form online
Select TYPE B for the CGS
Insert the Agency number of your preferred university.
Applicants must have applied to their preferred university for admission.
An applicant shall reach an application receiving agency for a recommendation
The university will shortlist the applicants and submit the list to the CSC for scholarship approval
A team of experts at the CSC will also scrutinize the shortlisted candidates' list before submitting the accepted candidates for the scholarship to the individual universities.
The universities will then notify the applicants
Ministry Of Commerce(MOFCOM) Scholarship
This scholarship is for students from developing countries and is funded by the Ministry of Commerce of the People's Republic of China.
The scholarship has the same eligibility criteria as Chinese Government Scholarship, but with more emphasis on economic development in developing countries.
It focuses on strengthening the relationship between China and the recipient countries.
The main aim of this scholarship is to offer support to government officials, research fellows, and senior managers for their master's and doctoral studies in China. As a result, academic excellence and work experience are crucial in the selection process.
Eligibility for MOFCOM scholarship for international students
In order to qualify for this scholarship, applicants must meet the following requirements:
Possess citizenship of a developing country other than the People's Republic of China
Be under the age of 45.
Have at least three years of work experience
Hold a bachelor's degree when applying for a master's program or a master's degree when applying for a doctoral program.
Have a relevant educational background or work experience related to the program applied for, which is preferred.
Be a public official at the division level or above (or corresponding level) in government sectors, a senior management staff member of organizations and enterprises, or an academic backbone of universities and research institutions.
Demonstrate proficiency in English that meets the academic requirements of the program, which should be equivalent to an IELTS score of 6.0 or a TOEFL score of 80 or higher.
Have the potential for professional development
Be committed to promoting friendly exchanges and cooperation between the host country and China.
Not be studying in China or be admitted to any other scholarship programs provided by the Chinese government.
Be in good physical and mental health, with a physical examination report from a local public hospital
To maintain the full scholarship for the following year, students are required to participate in an annual review, and successful completion of the review is necessary.
Do not have any prohibited diseases or conditions, including those listed below:
a) Conditions that violate Chinese Entry-Exit Inspection and Quarantine Laws and Regulations
b) Serious chronic illnesses such as high blood pressure, cardiovascular and cerebrovascular diseases etc. or other infectious diseases that could pose a risk to public health
c) In the recovery phase after major surgery or acute disease episodes
d) Severely physically challenged
e) Pregnant
Scholarship Benefits/Coverage
The MOFCOM scholarship offers the following benefits to students:
Tuition, teaching material fee, research and survey fee, allowance for English-taught programs, and dissertation guidance.
Accommodation
Monthly stipend of 3,000RMB per month for master's students and 3,500RMB per month for PhD students.
A one-time resettlement allowance of 3000RMB per person.
Comprehensive medical insurance.
One round-trip international airfare is provided for students flying to China for the first time after enrollment and returning to their home country upon graduation.
One round-trip international airfare every summer break for home visits.
The Ministry of Commerce only provides financial assistance to students during their enrolled academic duration, and students who delay graduation will not receive continued sponsorship.
Application documents for MOFCOM Scholarship
Photocopy of a valid passport
A copy of the certificate of the highest diploma or degree
Photocopy of academic transcripts;
A Study Plan or Research Proposal
Résumé: should include the educational background and working experience after high school
Two recommendation letters, including one from your current employer and one from an academic
Photocopy of the Foreigner Physical Examination Certificate
Proof of English proficiency (if applicable)
A valid Non-Criminal Record Report
Application Process for MOFCOM Scholarship
This scholarship follows the same application process as CGS. However in:
some recipient countries, the applicant can individually apply directly
other countries, the applicant must apply through the Chinese Embassy in their country upon receiving a recommendation letter from the appropriate government institution in their country.
NB: Please contact the Chinese Embassy or Consulate in your country for the processes involved before starting the application.
List of Universities that admit MOFCOM Scholarship Students
The Chinese Ministry of Commerce has a list of 26 universities that accept the MOFCOM Scholarship. These include:
Fudan University
Xi'an Jiaotong University
Nankai University
Peking University
Renmin University
Beijing Normal University
Tsinghua University
Beijing Jiaotong University
Beihang University
University of International Business and Economics
Tianjin University
Jilin University
Shanghai Jiaotong University
Tongji University
East China Normal University
Shanghai University of Finance and Economics
Nanjing University
Zhejiang University
Xiamen University
Shandong University
Wuhan University
Huazhong University of Science and Technology
Wuhan University of Technology
Sun Yat-sen University
Southwest Jiaotong University
Harbin Institute of Technology
For each university, there is an agency number which you will use during the application process.
Chinese University Program
It is a partial scholarship that most universities in China offer to international students as support to lessen the financial burden of the beneficiaries.
Most universities have the details on the application processes and eligibility on their websites.
Chinese Local Government Scholarship
This is a special type of scholarship sponsored by the local or municipal government. It aims at supporting brilliant but needy students who will be or are studying in a qualified university within the municipality or the catchment of the local government. It is in a form of a full or partial scholarship. The scholarship varies from local government.
Details are provided on the official website of the individual universities.
Confucius Institute Scholarship
The Confucius Institute Scholarship is a Chinese government scholarship for international students studying, teaching or working in a Chinese Language institution. The aim is to promote the Chinese Language and Culture.

Eligibility for the Confucius Institute Scholarship
Be a Non-Chinese citizen
Have good academic records
Be physically and mentally sound
Be between the ages of 16-35 years (depending on the program)
Aspire to teach or promote Chinese language and culture
Application requirements
Have passed HSK 3 and or 4 levels or above
International Passports
Academic certificate of your highest diploma or degree
And other documents required on the university's page
What does the Confucius Institute Scholarship Cover?
The Confucius scholarship cover:
Tuition
Accommodation
Monthly stipend
Cultural excursions
Medical Insurance etc.
Where do I apply for the Confucius Institute Scholarship?
The application for the Confucius institute scholarship is done via the official website of the Confucius Institute.
I have provided you with an overview of the major scholarships in China for international students, the benefits, the application requirements, the application requirements etc.
I hope this article has been helpful in making your Chinese scholarship application process easier. Remember that Chinese scholarships are highly competitive so make sure to apply early and give yourself enough time to prepare properly.
Best of luck with your Chinese Scholarship application process!